Briar Rose by Jane Yolen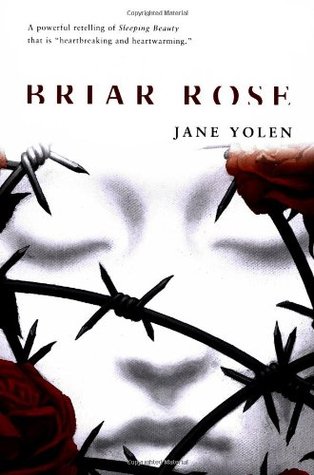 It is an old, old tale, the German story of Briar Rose, the Sleeping Beauty. Now one of America's most celebrated writers tells it afresh, set this time in the forests patrolled by the German army during World War II. A tale of castles, of mists and thorns, of a beautiful sleeping princess, and an astonishing revelation of death and rebirth. (via Goodreads)
This is a book I've owned for a very long time. I bought it when it was newly published, back when I was in college. Twenty years is a good estimate. It's traveled back and forth from dorm rooms to my parent's house to the house I shared one summer to the apartments I lived in before I got married to the apartment I've lived in for the last 14 years. What took me so long? Books about the Holocaust are like that. You can't wait to be in the right mood for them. The mood never comes.
Becca and her two sisters grew up with their Gemma's version of Sleeping Beauty. It mostly followed the usual tale, but with some curious differences. Even Becca, the good granddaughter, never paid attention to the inaccuracies until Gemma dies and leaves Becca a box of strange documents concerning a woman named Gitl Mandlestein, not a name familiar to Gemma's family. Becca unravels the tale, following her grandmother's story to an extermination camp named Chelmno.
I bought this book because I was intrigued by the combining of fairy tale and history. Gemma's story, repeating it again and again to her daughter and granddaughters is the distillation of  "never forget," even if there are part of her history that Gemma can't quite remember. On a personal level, after the death of my own closest grandmother, it was a tough read and once again I wish I knew more solid details about Oma's life.
This book was one the first that I encountered that was labeled "Young Adult." When I bought it, that's just what I was. It very much fits the criteria I consider YA. Becca isn't only looking for her grandmother's identity, but her own as well. Sometimes the writing was a little clunky. I haven't read much Yolen so I'm not sure if it's her, or whether she was trying to be lighter with the vocabulary.
Publisher: Tor Books
Publication date: November 15th 1993
Genre: Fantasy, Fairy Tale
Why did I choose this book? Decided to finally read it for Once Upon a Time Challenge.