This book was provided to me by Andrews McMeel Publishing via NetGalley in exchange for an honest review.
Soppy: A Love Story by Philippa Rice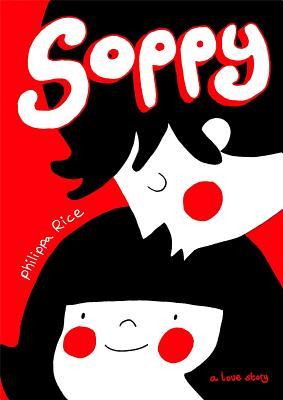 The wildly popular web comic SOPPY–with more than half a million notes on Tumblr–is the illustrated love story of author Philippa Rice and her real-life boyfriend. True love isn't always about the big romantic gestures. Sometimes it's about sympathizing with someone whose tea has gone cold or reading together and sharing a quilt. When two people move in together, it soon becomes apparent that the little things mean an awful lot. The throwaway moments in life become meaningful when you spend them in the company of someone you love.

SOPPY is Philippa Rice's collection of comics and illustrations based on real-life moments with her boyfriend. From grocery shopping to silly arguments and snuggling in front of the television, SOPPY captures the universal experience of sharing a life together, and celebrates the beauty of finding romance all around us. (via Goodreads)
From the beginning of November until mid-February, it's difficult to miss a certain type of TV and radio commercial (at least here in the US). It's the holiday season and it is assumed that every woman wants not only expensive jewelry as a Thinkgiving/Christmas/New Year/Valentine's day gift, but the *right* jewelry. Any man foolish enough to not purchase the correct ring/necklace/bracelet/earrings isn't worthy of the woman's love. These commercials annoy me because they don't give either party enough credit. Sure, getting a gift is nice and all, but 99% of being with someone isn't about the baubles. It is, instead, like Soppy.
Soppy is Philippa Rice's simple two-color comic.  It's sweet and quiet and all about those moments that fill living with someone. There's no hard-fast narrative here, but a reader gets the gist. Two single people with already okay lives meet, court, and move in together. Sometimes thing are great, sometimes they're not, but the power of pickles and vanilla shakes prevail.
I was unfamiliar with Rice's online presence. That's not the case anymore. Soppy is the lovely antithesis of every annoying jewelry commercial that clutters up the holiday season.
Publishing info, my copy: Andrews McMeel Publishing, 2014, ePub ARC
Genre: Graphic nonfiction