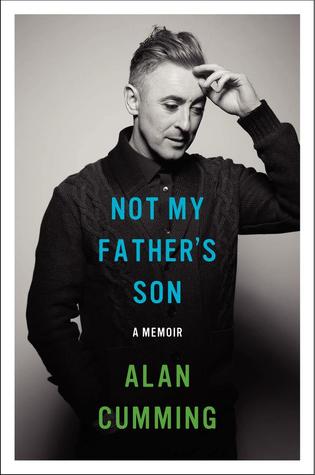 Not My Father's Son by Alan Cumming
A beloved star of stage, television, and film, Alan Cumming is a successful artist whose diversity and fearlessness is unparalleled. His success masks a painful childhood growing up under the heavy rule of an emotionally and physically abusive father—a relationship that tormented him long into adulthood.

When television producers in the UK approached him to appear on a popular celebrity genealogy show in 2010, Alan enthusiastically agreed. He hoped the show would solve a family mystery involving his maternal grandfather, a celebrated WWII hero who disappeared in the Far East. But as the truth of his family ancestors revealed itself, Alan learned far more than he bargained for about himself, his past, and his own father. (via Goodreads)
I know I've read three of them this year*, but I don't usually read celebrity memoirs. I'm curious about the business and history of show business, but not really the celebrity aspect of it.
I decided to read Alan Cumming's memoir because, well, he's a bit of a character. I wondered what story about his past he had to tell. I presumed it would be something along the lines of what it was like growing up gay in Scotland with a father that was not accepting to the point of being abusive. That is possibly part of the story.
~~Spoilers Ahead~~
Cumming breaks his narrative into three interwoven parts: Then, 2010, and Now. Then is recollections from his childhood. Some are stories of abuse, both mental and physical. Some are happier memories, of his mother and grandmother and his brother Tom, who was not spared abuse. 2010 is about the filming of an episode of Who Do You Think You Are?, a genealogy reality show. During this time, but not related to the show, Cumming's father reveals that Alan is not his son. This would seem to explain his father's anger toward the family. Bizarrely, the story is not that straightforward. Juxtaposed with this is the story if his mother's father, a man who suffered trauma during WWII and was never able to reintegrate into civilian society. Now is the aftermath, several years on.
It is an interesting story, but I felt that the telling sometimes lacked focus. The jumps between time settings didn't always work for me and I wonder if a more linear telling might not have been better. I never felt the entire weight of Cumming's past because I was continually being pulled into the world of 2010/now–globetrotting film shoots, hotel amenities, and parties with friends. Regardless, the memoir is a brave one. There are unanswered questions about Cumming's past. I'm left feeling that this memoir has been part of dealing with those.
*This one, Mindy Kaling's, which I read earlier in the year, and Neil Patrick Harris's, which I'll review next week.
Publishing info, my copy: HarperCollins, Oct 07, 2014, Overdrive Read/Kindle ebook from Tempe Public Library
Genre: Nonfiction, memoir.