This book was provided to me by Crown Publishing Group via Edelweiss in exchange for an honest review.
Dead Wake: The Last Crossing of the Lusitania by Erik Larson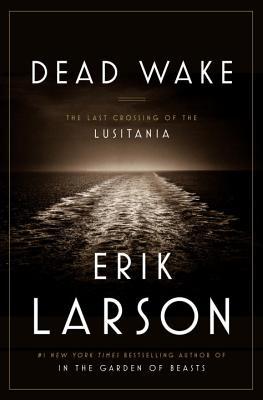 On May 1, 1915, a luxury ocean liner as richly appointed as an English country house sailed out of New York, bound for Liverpool, carrying a record number of children and infants. The passengers were anxious. Germany had declared the seas around Britain to be a war zone, and for months, its U-boats had brought terror to the North Atlantic. But the Lusitania was one of the era's great transatlantic "Greyhounds" and her captain, William Thomas Turner, placed tremendous faith in the gentlemanly strictures of warfare that for a century had kept civilian ships safe from attack. He knew, moreover, that his ship–the fastest then in service–could outrun any threat.

Germany, however, was determined to change the rules of the game, and Walther Schwieger, the captain of Unterseeboot-20, was happy to oblige. Meanwhile, an ultra-secret British intelligence unit tracked Schwieger's U-boat, but told no one. As U-20 and the Lusitania made their way toward Liverpool, an array of forces both grand and achingly small–hubris, a chance fog, a closely guarded secret, and more–all converged to produce one of the great disasters of history. (via Goodreads)
For me, the joy of nonfiction is when I find myself interested in something I never thought I'd want to know about. I recently realized that my knowledge of World War I is rather scant, but did I really want to know the details of early WWI German submarine warfare? Turns out, I did. At least when Erik Larson is writing about submarine warfare through the lens of Walther Schwieger, the captain of U-20, who sank the Lusitania.
Larson writes nonfiction like pointilists  paint. Readers are given these individual stories, about Schwieger, about William Thomas Turner the captain of the Lusitania, about President Wilson, about the men, women, and children, survivors and victims. All the details, all the individual little stories that he presents eventually come together to show the larger story, or at least the feel of the larger story.
Dead Wake has a more solid narrative than Thunderstruck or The Devil in the White City. It feels like there was less detective work in the research for this book and more natural narratives in the wealth of accounts and documents the surround the Lusitania and this period of WWI. Despite its subject matter, Dead Wake is a lighter book, but still as entertaining and informative as any of Erik Larson's other books.
Publishing info, my copy: Kindle/ePub ARC provided by Crown Publishing. Sale Date: March 10, 2015
Acquired: Edelweiss
Genre: Non-fiction