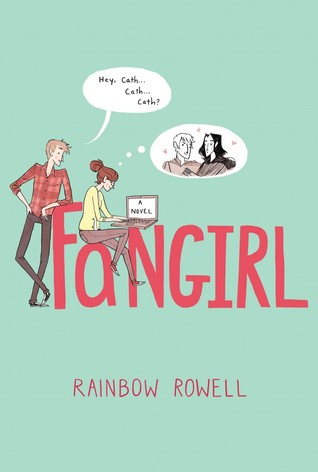 Fangirl by Rainbow Rowell
Cath is a Simon Snow fan.

Okay, the whole world is a Simon Snow fan…

But for Cath, being a fan is her life—and she's really good at it. She and her twin sister, Wren, ensconced themselves in the Simon Snow series when they were just kids; it's what got them through their mother leaving.

Reading. Rereading. Hanging out in Simon Snow forums, writing Simon Snow fan fiction, dressing up like the characters for every movie premiere.

Cath's sister has mostly grown away from fandom, but Cath can't let go. She doesn't want to.

Now that they're going to college, Wren has told Cath she doesn't want to be roommates. Cath is on her own, completely outside of her comfort zone. She's got a surly roommate with a charming, always-around boyfriend, a fiction-writing professor who thinks fan fiction is the end of the civilized world, a handsome classmate who only wants to talk about words… And she can't stop worrying about her dad, who's loving and fragile and has never really been alone.

For Cath, the question is: Can she do this? Can she make it without Wren holding her hand? Is she ready to start living her own life? Writing her own stories?

And does she even want to move on if it means leaving Simon Snow behind? (via Goodreads)
Back in February, I was looking for something lighter to read, something that wasn't set between 1850 and 1930, where I often find myself. I decided that I'd check to see if the digital library had Rainbow Rowell's Landline available, Landline being her more adult novel. (To recap: YA? Just generally not my bag of tea. I'm 40 and cantankerous. Young people annoy me. 😉 )
Landline was all checked out, but Fangirl was available. I'd read the blurb when Fangirl came out and I…just wasn't that interested. But then I read first couple of sentences.
There was a boy in her room.

Cath looked up at the number painted on the door, then down at the room assignment in her hand.

Pound Hall, 913.

This was definitely room 913, but maybe it wasn't Pound Hall—all these dormitories looked alike…
And once again, Rainbow Rowell got me with the nostalgia. See, when I was a student at the University of Nebraska-Lincoln, I lived in Pound Hall. I started out in Sandoz Hall, but after nearly two months I moved to Pound when I was given the opportunity to have a no roommate. I lived for the rest of that year and the next on the 5th floor and then moved down to the 3rd for my junior and senior years. I know Pound Hall. Even though I could probably figure where 913 is, I see Cath and Raegan's where mine was on 5: at the end of the hallway by the stairwell. I see the cinder block walls and the built-in desks and bookshelves.
There are other nostalgia things as well: Love Library's stacks that had their own weird air currents, dashing back across campus after dark when alone (when you're a freshman girl) because you're certain you'll be attacked (fairly unfounded fear, shed by second semester), and the fact that starting out no one from Omaha actually knows where East Campus is. Fangirl kind of made me marvel at how *I* managed to make it through freshman year. It also made me really appreciate where I am now.
So, the story itself. The blub makes it seem more like this book going to be about writing fan fiction than it is. Sure, there's some comment on fan fiction's place within the realms of what is "legitimate" writing, but Fangirl is really about the girl. It's about Cath dealing with all those college-y things and her own brand of crazy while having this very firm backbone of Simon Snow fandom to help her stay upright. And, to make this about me again, how much did ST:TNG and X-Files help introverted me? There is a beauty to fandom; it gives people common interest, a starting point. Fangirl is a love letter to that.
Publishing info, my copy:  St. Martin's Press, Kindle Book, Sep 10, 2013
Acquired: Tempe Public Library OverDrive Collection
Genre: YA