This book was provided to me by the author in exchange for an honest review.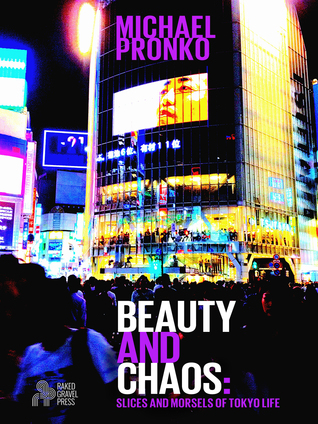 Beauty and Chaos: Slices and Morsels of Tokyo Life by Michael Pronko
Tokyo–City of Contradictions? Yes and no! The largest city in the world teems with chaotic energy and serene, human-scale beauty

Want to know the real city? Writing about Tokyo for over 15 years, essayist and professor Michael Pronko opens up Tokyo life and reveals what's beneath the gleaming, puzzling exterior of the biggest city in the world.

Whether contemplating Tokyo's odd-shaped bonsai houses, endless walls of bottles, pachinko parlors, chopstick ballet or the perilous habit of running for trains, the 45 essays in Beauty and Chaos explore Tokyo from inside to reveal the city's deeper meanings and daily pleasures. In turns comic, philosophic, descriptive and exasperated, Pronko's essays have been popular with Japanese readers for more than a decade.

Essay Topics Include: Waiting to Blossom–Cherry Tree Maps, The Shout of English T-Shirts, Hanging Menus, Inside the Smallest Places, Standing Libraries (via Goodreads)
At just past the halfway point in Beauty and Chaos, Michael Pronko writes about the elegance of eating with chopsticks, the brief suspension of food that is lacking with knife and fork.
"It allows one to see the near side as well as the far side of the morsel, an entire three-dimensional area."
Michael Pronko does the same in each of the essays in Beauty and Chaos. Aptly, it is subtitled Slices and Morsels of Tokyo Life. The essays are short, grouped loosely into sections, and each feels like a tasty bite being presented from many angles to the reader.
Pronko is a fifteen year resident of Tokyo. Sometimes these pieces are observations and sometimes they contain theories about the behavior of city natives, but there is always an appreciation of the place and the people that is palpable. He loves the city; he is enthusiastic about it, even some of it's less pretty aspects.
I also really enjoyed that Beauty and Chaos is about a *city*. It's sometimes easy for an author to gush about the grand vistas of nature, and harder to grasp what makes a city special and different from other cities. I was reminded very early in my reading that sense of place is important to me in fiction and in nonfiction as well. It should probably be more important in my writing. I should ask myself more often, "What makes *this* place special and worthy of note?"
Purchase This Book: Beauty and Chaos is available from Amazon and Smashwords
Publishing info, my copy: Raked Grave Press 2014, kindle edition
Acquired: Provided by the author
Genre: non-fiction