I'm appropriating Mondays for short reviews of my summer reads (I'm behind in reviewing all the books I'd like to review) and my weekly preview.
What I Read Last Week
The Thirteenth Tale by Diane Setterfield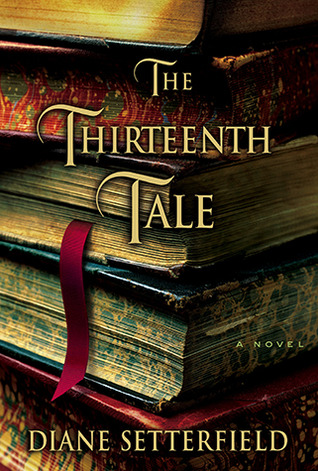 Biographer Margaret Lea returns one night to her apartment above her father's antiquarian bookshop. On her steps she finds a letter. It is a hand-written request from one of Britain's most prolific and well-loved novelists. Vida Winter, gravely ill, wants to recount her life story before it is too late, and she wants Margaret to be the one to capture her history. The request takes Margaret by surprise — she doesn't know the author, nor has she read any of Miss Winter's dozens of novels.

Late one night while pondering whether to accept the task of recording Miss Winter's personal story, Margaret begins to read her father's rare copy of Miss Winter's Thirteen Tales of Change and Desperation. She is spellbound by the stories and confused when she realizes the book only contains twelve stories. Where is the thirteenth tale? Intrigued, Margaret agrees to meet Miss Winter and act as her biographer.

As Vida Winter unfolds her story, she shares with Margaret the dark family secrets that she has long kept hidden as she remembers her days at Angelfield, the now burnt-out estate that was her childhood home. Margaret carefully records Miss Winter's account and finds herself more and more deeply immersed in the strange and troubling story.

Both women will have to confront their pasts and the weight of family secrets… and the ghosts that haunt them still. (via Goodreads)
Back in October of 2013, I read an ARC of Bellman & Black. I was entirely unfamiliar with Diane Setterfield at the time, but very quickly learned that expectations were high for the sophomore book. While I hadn't heard of it, everyone loved her debut, The Thirteenth Tale.* I, in fact, liked Bellman & Black a lot. It was one of my favorites of that year. But as reviews came in from The Thirteenth Tale fans, it turned out that most were pretty dissatisfied with B&B. Was it expectations? Were the two books very, very different?  It was a question I was mildly interested in answering, but it was The Thirteenth Tale's inclusion on many gothic literature lists that led to my reading it.
Being somewhat a book about books and reading, Setterfield is definitely aware of the story's gothic pedigree. Not only is Miss Winter's childhood home of Angelfield a presence in the book, but so is her current estate (and its gardens) and the Lea's bookshop. In both the present story and Miss Winter's past, servants and employees are pretty much the most powerful characters. The family secrets are salacious. While I was slow to get into it, I enjoyed plowing through the second half on Saturday.
Surprisingly, though, I find I like Bellman & Black more. While gothic elements make for a generally approved format, I liked that B&B was a bit different; if not in tone, but structure. I can see were some readers might have been disappointed with its sort of incorporeal story, it's lack of twist, but I that's what I liked about it.
* That I hadn't heard of it is indication of nothing. I live under a rock. It's a cozy rock.
What I'm Reading This Week
I need to make some headway on The Best Horror of the Year, Vol. 7, but I think I might start Girl Meets Class by Karin Gillespie this week for something completely different. This week's Deal Me In story is "Bobok" by Fyodor Dostoyevsky.