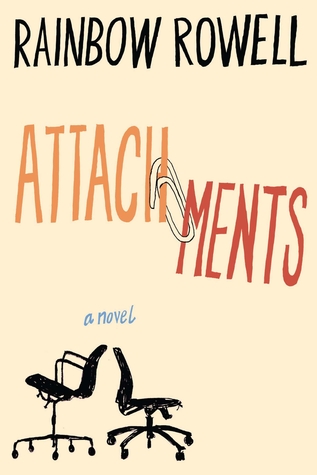 Attachments by Rainbow Rowell
"Hi, I'm the guy who reads your e-mail, and also, I love you . . . "

Beth Fremont and Jennifer Scribner-Snyder know that somebody is monitoring their work e-mail. (Everybody in the newsroom knows. It's company policy.) But they can't quite bring themselves to take it seriously. They go on sending each other endless and endlessly hilarious e-mails, discussing every aspect of their personal lives.

Meanwhile, Lincoln O'Neill can't believe this is his job now- reading other people's e-mail. When he applied to be "internet security officer," he pictured himself building firewalls and crushing hackers- not writing up a report every time a sports reporter forwards a dirty joke.

When Lincoln comes across Beth's and Jennifer's messages, he knows he should turn them in. But he can't help being entertained-and captivated-by their stories.

By the time Lincoln realizes he's falling for Beth, it's way too late to introduce himself.

What would he say . . . ? (via Goodreads)
I needed a slump-buster. After the stress of returning from vacation, I needed a light-ish, enjoyable read. And that meant picking up one of Rainbow Rowell's books.
Attachments is like my favorite type of romantic comedy. The circumstances are a little odd-ball. The characters have problems other than being partnerless. There are things going on that are separate from their romance. The world is populated by normal people. No one's overly glamorous, but everyone is as funny as we all wish we were. Add to that, Attachments has that geeky quality that I expect from Rowell, and it's set in my hometown. There's a quip in the book about Sandra Bullock rom-coms, but this book does remind me of one of my favorite chick flicks, While You Were Sleeping.
I will say that I had a bit of a hard time sorting Beth and Jennifer out.  It was less about their voices and more that I couldn't, for part of the book, remember who was with Mitch and who was with Chris. I kind of wish there would have been a cast page like you find at the the beginning of a play. Considering that we only see the world from Lincoln's POV and only "hear" from Beth and Jennifer through their emails, Beth and Jennifer really are like reading the dialog from a play, a little unmoored from the solid story. But this is really a minor annoyance.
Overall, it was exactly the book I needed last week.
Publishing info, my copy: Penguin Publishing Group, eLibrary edition
Acquired: Tempe OverDrive Digital Collection
Genre: Romantic Comedy