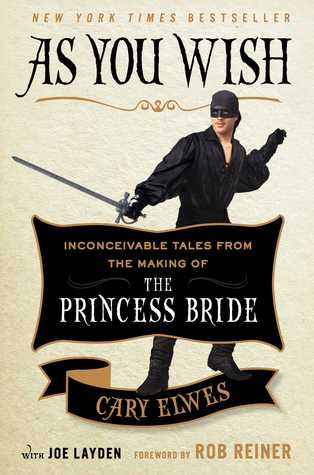 As You Wish by Cary Elwes & Joe Layden
The Princess Bride has been a family favorite for close to three decades. Ranked by the American Film Institute as one of the top 100 Greatest Love Stories and by the Writers Guild of America as one of the top 100 screenplays of all time, The Princess Bride will continue to resonate with audiences for years to come.

Cary Elwes was inspired to share his memories and give fans an unprecedented look into the creation of the film while participating in the twenty-fifth anniversary cast reunion. In As You Wish he has created an enchanting experience; in addition to never-before seen photos and interviews with his fellow cast mates, there are plenty of set secrets, backstage stories, and answers to lingering questions about off-screen romances that have plagued fans for years! (via Goodreads)
I love behind-the-scenes stories. I'm a fan of DVD extras and making-of documentaries. I've read all of William Goldman's books about screenwriting and movie making. (He's the writer and screenwriter of The Princess Bride, if you didn't know.) But most of all, I really enjoy it when the people involved have actual love and enthusiasm for the work they've done. To me, that's so much better than ugly, gossipy stories.
As You Wish is all about the love. If Cary Elwes has any regrets about forever being Westley (at least a little), he's keeping that under his black pirate mask. Not that it was an easy shoot. Between rainy rural England and grueling sword-fight training sessions, it was not a piece of cake. But it's all about who you're in a situation with and the many cast comments attest that it wasn't only Elwes who felt Princess Bride magic. In retrospect, it's hard to believe that the movie would have been anything but a hit, but the production almost didn't happen and the movie was only moderately successful. Thank goodness for cable TV and the home video revolution for bringing it to its eventual audience.
I listened to this as an audio book, read by Elwes, but including recordings by many of the cast, director Rob Reiner, and producers Andy Scheinman and Norman Lear. So, no never-seen-before photos for me, but instead Elwes dulcet tones telling me stories.
Publishing info, my copy: audio, Simon & Schuster, Oct 14, 2014
Acquired: Tempe OverDrive Digital Collection
Genre: Nonfiction, memoir