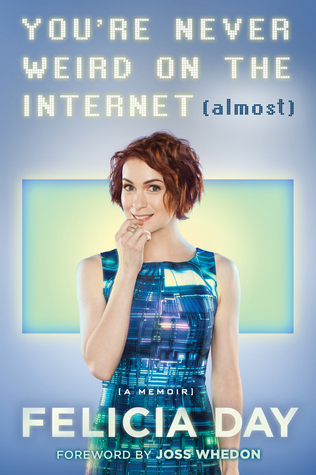 You're Never Weird on the Internet (Almost) by Felicia Day
The Internet isn't all cat videos. There's also Felicia Day—violinist, filmmaker, Internet entrepreneur, compulsive gamer, hoagie specialist, and former lonely homeschooled girl who overcame her isolated childhood to become the ruler of a new world… or at least semi-influential in the world of Internet Geeks and Goodreads book clubs.

After growing up in the south where she was "home-schooled for hippie reasons", Felicia moved to Hollywood to pursue her dream of becoming an actress and was immediately typecast as a crazy cat-lady secretary. But Felicia's misadventures in Hollywood led her to produce her own web series, own her own production company, and become an Internet star.

Felicia's short-ish life and her rags-to-riches rise to Internet fame launched her career as one of the most influential creators in new media. Now, Felicia's strange world is filled with thoughts on creativity, video games, and a dash of mild feminist activism—just like her memoir. (via Goodreads)
I.
I've generally enjoyed Felicia Day's work. I think I first saw her on Buffy the Vampire Slayer. Redheads always take notice of other redheads and having two on Buffy was pretty extraordinary! I'm also a fan of indie projects. I love seeing good stuff made and distributed without huge budgets. So, I've generally dug what Felicia Day is doing on the internet.
II.
It's interesting what a memoirist chooses to write about. In this case, Felicia Day focuses on two main things: her weirdness and her presence on the internet. There's very little in this book about her TV acting career (which includes Eureka and Supernatural as well as Buffy) or Dr. Horrible's Sing-Along Blog (which I was actually hoping to hear more about).
There is a lot about her upbringing, which she credits lovingly for her weirdness. Make no mistake, weirdness isn't a bad thing in this memoir. Day isn't shy about her likes and firmly seems to believe that no one should be. The internet has played a big part in bringing her into contact with other like-minded people and providing a means to do the thing she truly had a passion for: acting…as something other than the mousy cat-lady secretary. You're Never Weird provides a pretty in-depth history of The Guild and its evolution into Geek and Sundry.
III.
This memoir isn't all sunshine and virtual roses, which was surprising to me. Day is also a workaholic perfectionist. In the midst of burgeoning success, she suffered a breakdown. If embracing your inner geek is one message of this book, self-care and seeking help is another. Day also touches briefly on her experiences of harassment before and during Gamergate. The internet can bring people together, but it can also bring people together to form mobs. I have to give Felicia Day credit for sticking with and still loving the internet, even though it can be ugly.
Publishing info, my copy: Simon & Schuster Audio, Aug 11, 2015
Acquired: Tempe Overdrive Digital Collection
Genre: nonfiction, memoir