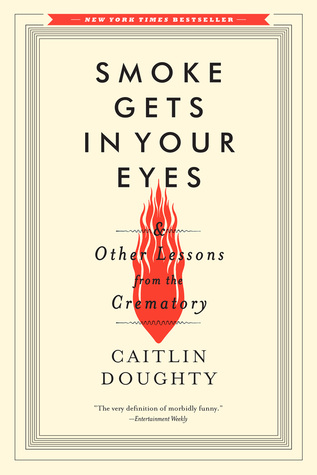 Smoke Gets in Your Eyes: And Other Lessons from the Crematory by Caitlin Doughty
Most people want to avoid thinking about death, but Caitlin Doughty—a twenty-something with a degree in medieval history and a flair for the macabre—took a job at a crematory, turning morbid curiosity into her life's work. With an original voice that combines fearless curiosity and mordant wit, Caitlin tells an unusual coming-of-age story full of bizarre encounters, gallows humor, and vivid characters (both living and very dead). Describing how she swept ashes from the machines (and sometimes onto her clothes), and cared for bodies of all shapes and sizes, Caitlin becomes an intrepid explorer in the world of the deceased. Her eye-opening memoir shows how our fear of dying warps our culture and society, and she calls for better ways of dealing with death (and our dead). In the spirit of her popular Web series, "Ask a Mortician," Caitlin's engaging narrative style makes this otherwise scary topic both approachable and profound. (via Goodreads)
When asked if there are books that have changed my life, that have caused a paradigm shift in the way I think about something, Mary Roach's Stiff is high on the list. That might seem to be an odd choice, but Roach's book on "the curious life of human cadavers" was the first time I had considered what I would prefer to have done with my earthly remains and start having conversations with my loved ones about it. Roach's book is practical in approach—the writer is a curious investigator into the ways to make the object of a corpse useful post-death rather than the usual burial or cremation.
In Smoke Gets in Your Eyes, Caitlin Doughty moves past the more clinical corpse-as-object point of view. She uses personal memoir to examine what we humans routinely do with our dead and how that reflects our attitudes toward death itself. Because of this Smoke Gets in Your Eyes is probably less for the faint of heart than Stiff. On one hand, when Doughty tells of her work at the crematory, you do get the almost comforting sense that no matter what the job is, it's a job. On the other, all her stories are personal in nature. She knows the names of the dead and often their circumstances. Those details are in mind when she relates the details of the death industry.
I was familiar with Doughty's "Ask a Mortician" videos and her Order of the Good Death manifesto before her book came out. Simply, Doughty theorizes (and Roach to some extent, as well) that our very hands-off approach to dealing with the dead is a reflection of our own fear of mortality. Within the last hundred years, the funeral industry has grown and made its services seem necessary—that a dead body is a dangerous thing that should only be taken care of by professionals. We (primarily this is an American "we") have gladly bought into this notion for better or worse. Doughty's aim is to educate and to bring about death positivity. Everyone dies eventually, so why should it be something filled with fear or, weirdly, shame?
Does Smoke Gets in Your Eyes do a good job advocating her position? Doughty tries to cover a lot of ground in 270 pages: her own experiences in the industry, some of the history of the industry, other death rituals throughout the world, and her Order of the Good Death philosophies. I think it's a good addition to her other media work, but I'm not sure that it's enough of any one of these things to do work beyond an introduction to Doughty herself.
Publishing info, my copy: Overdrive browser app, W. W. Norton & Company, Jul 30, 2015
Acquired: Tempe Library Overdrive Digital collection
Genre: nonfiction, memoir