From the Dust Returned by Ray Bradbury
William Marrow, 2001, Hardback
In 1946, Charles Addams (of Addams Family fame) illustrated "Homecoming,"  a story Ray Bradbury sold to Mademoiselle magazine. This *almost* began a continuing collaboration  between the two. Both got busy on other projects, though Bradbury occasionally added stories to the history of the Elliot family, residents of October Country. Where Addams' family is "creepy" and "kooky," Bradbury's is more in the realm of uncanny and maybe even evil. Many of the stories are told through the eyes of Timothy, the normal and unfortunate one of the family. While strong on atmosphere, the plot of the book is rough, stitching together a collection of short stories.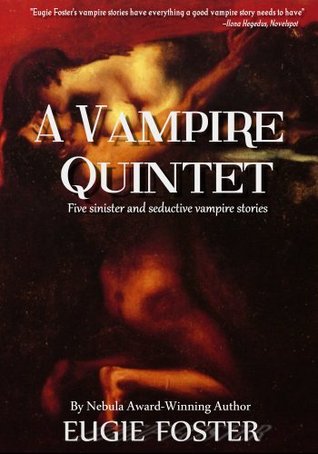 A Vampire Quintet by Eugie Foster
Self-published, 2013, Kindle edition
Simply, five pretty darn good vampire tales by one of my favorite authors. The settings are diverse, from a fairy tale land to a cyberpunk cityscape, and all present a new little twist to vampire mythos. A shock to no one, my favorite was "Ascendancy of Blood," a retelling of Sleeping Beauty.
Ghostbusters (2016)
Directed by Paul Feig
Starring Kristen Wiig, Melissa McCarthy, Kate McKinnon, Leslie Jones
The 1984 Ghostbusters is one of my favorite films; the only way that the new Ghostbusters could possibly "ruin my childhood" would be if it were so superior that I'd have to have a new favorite Ghostbusters. And that's win-win, you know? Alas, the new Ghostbusters isn't that good.
The best thing: This movie is about four grown women and in no way involves weight loss, marriage, or motherhood. These female characters get to be geeky about science, tech, and history. I'll admit it, that's cool to see in a movie.
Mixed things: Most of the comedy was what I expected—not very funny to me—but I was really surprised by how much I liked Leslie Jones' character. Patty is pretty funny. I loved all the actor cameos, and not just from the 1984 cast. You don't need Michael Kenneth Williams to play a DHS heavy, but it doesn't hurt. I thought the ghosts looked great. I don't think the up-ing of tech and action did anything good for the film. The derivative bits were very flat.
All in all, I wish this were a better movie. I wish it would have been so good that its critics had nothing to criticize. As it is, the fact that the characters are female isn't what makes the movie not very good.