This book was provided to me by Tachyon Publications via NetGalley in exchange for an honest review.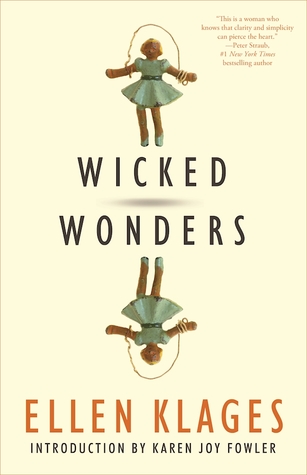 Wicked Wonders by Ellen Klages
The Scott O'Dell award-winning author of The Green Glass Sea returns with her second collection: a new decade of lyrical stories with vintage flair.

Inside of these critically-acclaimed tales are memorable characters who are smart, subversive, and singular. A rebellious child identifies with wicked Maleficent instead of Sleeping Beauty. Best friends Anna and Corry share a last melancholy morning before emigration to another planet. A prep-school girl requires more than mere luck to win at dice with a faerie. Ladies who lunch keeping dividing that one last bite of dessert in the paradox of female politeness.

Whether on a habitat on Mars or in a boardinghouse in London, discover Ellen Klages' wicked, wondrous adventures full of brazenness, wit, empathy, and courage. (via Goodreads)
Why was I interested in this book?
I almost didn't read this book.
I saw it on offer at NetGalley from Tachyon Publications (the only publisher that I'm auto-approved with—why they put up with my grumpy reviews, I don't know) and I was interested. But then I remembered that I had just purchased a Glen Hirshberg anthology, and I didn't really need another short story anthology, and I have a never-ending TBR pile mostly because I request too many ARCs and…I let Wicker Wonders pass by.
But then I got an email from Tachyon about widgets or something, and I guess I clicked a request link, and BAM! Wicked Wonders was ready for download. So, I read it, as one does when books show up.
And I'm glad I did.
What Worked
Ray Bradbury is one of my favorite authors. I especially love his tales of childhood: adventures on bicycles to dark carnivals in the midst of summer thunderstorms. Great stuff, but it occurred to me sometime  in my 30s that all of Bradbury's protagonists were boys. Makes sense since that's his experience of the world, but I kind of wished that there were some of those kinds of stories with girl protagonists. Because, why not? Girls have adventures too.
Enter Ellen Klages and Wicked Wonders:
She intends to be a good girl, but shrubs and sheds and unlocked cupboards beckon.
Yep, Klages hooked me right there with that line.
The stories range across the spectrum of speculative fiction. "Singing on a Star" and "Friday Night at St. Cecilia's" are strongly fantastical and "Goodnight Moons" is a straight-up sci-fi tale. On the other end, "The Education of a Witch" is only fantasy tinged and "Amicae Aeternum" is more of a bitter-sweet best-friends(who are girls!)-on-bikes story than space opera. There are even a couple of stories with no fantastic elements what-so-ever, including my favorite "Hey, Presto!" Had I known there was going to be a well-done historical fiction story with magicians I would have never hesitated to request this book!
What Didn't Work
I am really picky about science fiction. For me, the most science fictiony story of Wicked Wonders, "Goodnight Moons," was also the least successful. Happily, for me, science fiction is in the minority on this anthology.
Overall
I'm fairly sure that I haven't read any Ellen Klages in the past. Coincidentally, I had also almost requested her latest novel Passing Strange from NetGalley when it was available, but had decided against it as well on the grounds that my TBR pile was too high. After reading Wicked Wonders…well, that TBR stack is just going to have to get stratospheric. Ms. Klages, you have a new fan.
Publishing info, my copy: Kindle/Adobe Digital Edition, Tachyon Publications, May 23, 2017
Acquired: NetGalley, 3/13/2017
Genre: speculative fiction