This book was provided to me by Penguin Group and Blue Rider Press via NetGalley in exchange for an honest review.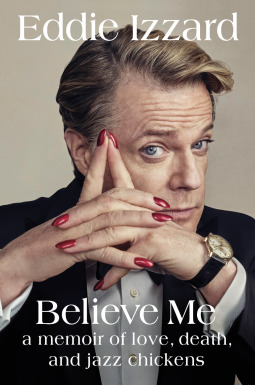 Believe Me: A Memoir of Love, Death, and Jazz Chickens by Eddie Izzard
Critically acclaimed, award-winning British comedian and actor Eddie Izzard details his childhood, his first performances on the streets of London, his ascent to worldwide success on stage and screen, and his comedy shows which have won over audiences around the world.

Over the course of a thirty-year career, Eddie Izzard has proven himself to be a creative chameleon, inhabiting the stage and film and television screen with an unbelievable fervor. Born in Yemen, and raised in Ireland, Wales and post-war England, he lost his mother at the age of six. In his teens, he dropped out of university and took to the streets of London as part of a two-man escape act; when his partner went on vacation, Izzard kept busy by inventing a one-man act, and thus a career was ignited. As a stand-up comedian, Izzard has captivated audiences with his surreal, stream-of-consciousness comedy–lines such as "Cake or Death?" "Death Star Canteen," and "Do You Have a Flag?" have the status of great rock lyrics. As a self-proclaimed "Executive Transvestite," Izzard broke the mold performing in full make-up and heels, and has become as famous for his advocacy for LGBT rights as he has for his art. In Believe Me, he recounts the dizzying rise he made from street busking to London's West End, to Wembley Stadium and New York's Madison Square Garden. (via Goodreads)
Why was I interested in this book?
In 2005 (or maybe 2006), Eric and I were at the World Fantasy Convention in Madison (or maybe Austin). Seeking refuge from all the con activities, we went up to our room to rest and watch a little TV. We don't have cable at home so HBO at a hotel is a little bit of luxury. And on HBO was a comedy special. The comedian was a man wearing heels, leather pants, a tunic blouse and a lot of makeup. He was very funny with a long-game comedy style that relies on clever call-backs. And so, Eddie Izzard gained two fans with his special Dressed to Kill.
What Didn't Work
It's hard to say that the first part of this memoir doesn't work. Eddie Izzard's early years were not super happy. His mother passed away when he was pretty young and he and his older brother were sent to boarding school because his father traveled often for work. Add to that Izzard's growing sense that he had, as he puts it, a girl mode despite being very sporty and being interested in the army and the UK version of the scouts. This isn't material that lends itself to a comedy take. I think Izzard knows this, but he does try to add some levity in the form of digressions. I think it was this juxtaposition that didn't quite work for me in the first half of the book.
What Worked
The pace picks up in the second half as Izzard talks about the evolution of his career and the things that have become important to him. This seems to be more comfortable territory for Izzard. If, like me, you came upon Izzard as a successful stand-up comedian, it isn't evident that he originally wanted to do dramatic roles. The path to playing  Wayne Malloy on The Riches or Abel Gideon on Hannibal wound through sketch comedy and street performance before the stand-up stage.
…if I wish to do something, I am quite happy to go back again and again and attack the brick wall of "no" and find a way to push through to the other side.
Izzard has carried this through in his personal life as well. His career as a stand-up comedian was just taking off when he decided to come out as transgendered. It could have destroyed his career or it could have led to becoming a "niche" comedian. Instead, Izzard simply persisted in being an intelligent and absurd. One gets the feeling that if the stand-up thing wouldn't have worked, Izzard would have pivoted to the next thing. What that might have been is a question for the ages.
Publishing info, my copy: ePub, Blue Rider Press, 2017
Acquired: NetGalley, 5/30/17
Genre: memoir