Week 1: (Oct 30 to Nov 3) – Julie @ JulzReads: Your Year in Nonfiction: Take a look back at your year of nonfiction and reflect on the following questions – What was your favorite nonfiction read of the year? What nonfiction book have you recommended the most? What is one topic or type of nonfiction you haven't read enough of yet? What are you hoping to get out of participating in Nonfiction November?
My Year
I've been having a pretty slumpy year, reading-wise. Out of only 30 books, I've read 7 nonfiction titles.
Two of what I'll call "Pop Culture":
Three Celebrity Bios:
Two about Magic:
Recommended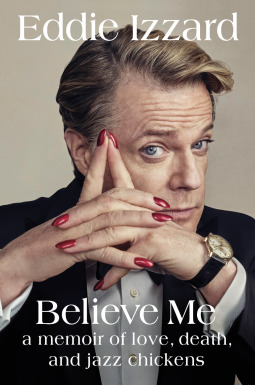 I've been a fan of Eddie Izzard since sometime in the early 2000s after his special Dressed to Kill was aired on HBO. I had followed his career and some of his marathon-running odyssey, but there was a lot I didn't know about Izzard. His journey to stardom is a long one. I also enjoyed reading about his philosophy: that belief in self and those around you can be a very powerful thing.
Favorite
My favorite is different from my recommended because magic history is a bit of a niche subject. But, if you're interested in magic or showbiz during the late 19th/early 20th century, this is a great book. Adelaide Herrmann was one heck of a lady, becoming one of the most famous female magicians after the death of her husband.
Looking Forward
I can't read enough books about magic, but mostly it would be nice to eventually get through the nonfiction books I've acquired this year:
Salvation on Sand Mountain: Snake Handling and Redemption in Southern Appalachia by Dennis Covington
The Perfect Storm by Sebastian Junger
Lizzie: The Letters of Elizabeth Chester Fisk, 1864-1893, edited by Rex C. Meyers
The Science of Illusion by Jacques Ninio
Here is Real Magic by Nate Staniforth
Alas, Nonfiction November always increases my want-to-read list. Not that I'm complaining. 🙂