This book was provided to me by Random House Publishing Group – Hydra via NetGalley in exchange for an honest review.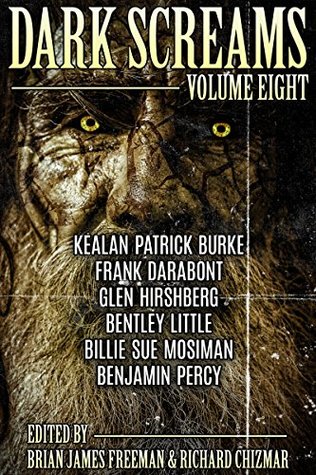 Dark Screams: Volume Eight edited by Brian James Freeman & Richard T. Chizmar
Frank Darabont, Bentley Little, Benjamin Percy, Billie Sue Mosiman, Kealan Patrick Burke, and Glen Hirshberg share chilling tales of ancient evils and wicked desires in this spooky collection assembled by renowned horror editors Brian James Freeman and Richard Chizmar. (via Goodreads)
Why was I interested in this book?
Found it by searching for Glen Hirshberg at NetGalley, doubly interested because of Frank Darabont.
What Worked & Didn't Work
Five of these six stories reminded me of the best episodes from late 80s/early 90s horror anthology TV shows (Tales from the Darkside, Monsters, Freddy's Nightmares). Each had a great twist of an ending and variable levels of gore.
Frank Darabont's "Walpuski's Typewriter" sets the tone for the anthology. It's a nasty piece of work (in a good way!) involving a writer and a demon possessed typewriter. Darabont is best known for his screen writing and adaptations; notably The Shashank Redemption and The Mist. I hadn't read any of his prose. It did not disappoint.
"The Boy" by Bentley Little was the perfect followup. I found myself wondering if I was supposed to like Christine's neighbors, especially as they make fun of a kid who supposedly smells. By the end of the story, I wasn't sure who was worse. Christine solves their stinky kid problem, in a way that is probably more honest than her two-faced neighbors would consider.
With Benjamin Percy's "Tumor," we're solidly back in the land of Tales from the Darkside. This is a simple short, tale, but full of gory glee.
A shift in tone happens in the latter half of Dark Screams, Vol. 8. The stories are more complex and a smidge more contemplative in their horror. The one story that didn't work for me was right after the mid-point, "Twisted and Gnarled" by Billie Sue Mosiman. The story is told alternately through first person point of view of a serial killer, The Man, and a somewhat psychic mother, The Woman. The internal dialogue of both of these characters really didn't work for me.
Quiet horror continued in "The Palaver" by Kealan Patrick Burke. Alluding to the stories of the late 19th century, this is a tale within a tale. Our narrator is the owner of the slowly failing Palavar Barbershop. He's told a story of cosmic horror from the Great Depression that may or may not repeat itself in the 21st century.
The last story in the anthology is Glen Hirshberg's "India Blue." As with many of these tales, the "payoff" is at the end of the story, which means reading through one man's endeavor to bring cricket to America. Not just cricket though, but America's Rockin' Professional Cricket, complete with cheerleaders and a showboat player who has been drummed out of respectable leagues. Luckily, the journey is possibly better than the ending.
Overall
Solid anthology. It's release date is Halloween and it's the perfect little reading treat.
Publishing info, my copy: Kindle/ePub, Random House Publishing Group, 10/31/17
Acquired: 8/17/17, NetGalley
Genre: horror