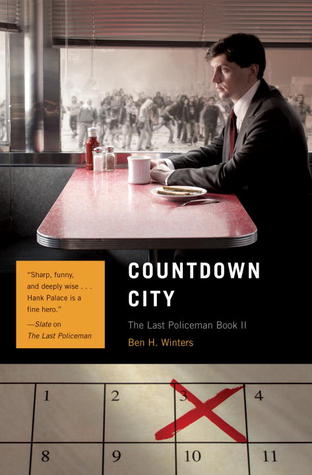 Countdown City by Ben H. Winters
There are just 77 days to go before a deadly asteroid collides with Earth, and Detective Hank Palace is out of a job. With the Concord police force operating under the auspices of the U.S. Justice Department, Hank's days of solving crimes are over…until a woman from his past begs for help finding her missing husband.

Brett Cavatone disappeared without a trace – an easy feat in a world with no phones, no cars, and no way to tell whether someone's gone "bucket list" or just gone. With society falling to shambles, Hank pieces together what few clues he can, on a search that leads him from a college-campus-turned-anarchist-encampment to a crumbling coastal landscape where anti-immigrant militia fend off "impact zone" refugees.

The second novel in the critically acclaimed Last Policeman trilogy, Countdown City presents a fascinating mystery set on brink of an apocalypse – and once again, Hank Palace confronts questions way beyond "whodunit." What do we as human beings owe to one another? And what does it mean to be civilized when civilization is collapsing all around you? (via Goodreads)
Why was I interested in this book?
So, I won this book from The Geeky Library back in June 2014. Two years later in 2016, I reviewed the first in the series, The Last Policeman. I said at the end of that review I said I'd be reading Countdown City in the near future. Well… I guess that's what the TBR Challenge is for!
What Worked
As with the first book, the thing I like about this series is the character of Hank Palance. Hank is just a regular guy. He just wants to be a police detective, a job he's reasonably good at. Sadly, the end of the world is kind of getting in the way. The novel starts July 18th; in 77 days a meteor is going to hit the Earth, a possibly humanity-ending event. Hank is the type of character I like to write: a hard-worker who is being screwed over by circumstances. Despite everything, Hank is still this good, decent guy.
Winters also does a good job of advancing the timeline of societal breakdown as Impact Day approaches.  Things are getting dicey. People are starting to get a little nutty about resources. There are cults and scams and conspiracies. These things are a lot more interesting than the super lawlessness that most apocalyptic stories present.
What Didn't Work
A bit of a **SPOILER** warning here — Hank has a knack of getting himself into trouble without a plan to get out of that trouble. While he gets the crap beat out of him, the narrative bails him out. There are a couple of swoop-in rescues of Hank in this book. They're not really unreasonable, but this is a trend that can get old. **END SPOILER**
Overall
I enjoyed Countdown City. I had a couple of problems with the story, but I'm still interested in reading the third book. Maybe I'll finish the series by 2020?
Publishing info, my copy: trade paperback, Quick Books, 2013
Acquired: Won it from GeekyLibrary, June 2014
Genre: mystery, science fiction