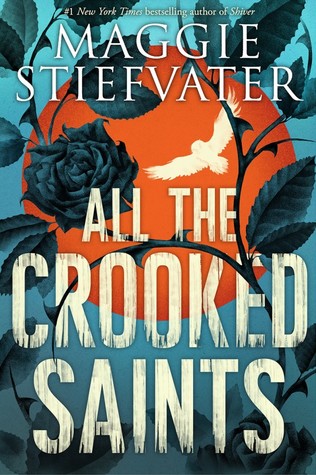 All the Crooked Saints by Maggie Stiefvater
Here is a thing everyone wants: a miracle.
Here is a thing everyone fears: what it takes to get one.

Any visitor to Bicho Raro, Colorado is likely to find a landscape of dark saints, forbidden love, scientific dreams, miracle-mad owls, estranged affections, one or two orphans, and a sky full of watchful desert stars.

At the heart of this place you will find the Soria family, who all have the ability to perform unusual miracles. And at the heart of this family are three cousins longing to change its future: Beatriz, the girl without feelings, who wants only to be free to examine her thoughts; Daniel, the Saint of Bicho Raro, who performs miracles for everyone but himself; and Joaquin, who spends his nights running a renegade radio station under the name Diablo Diablo.

They are all looking for a miracle. But the miracles of Bicho Raro are never quite what you expect. (via Goodreads)
Why was I interested in this book?
I won this from Midnight Book Girl(s) during Bloggers Dressed in Blood. YA isn't usually my thing, but I was intrigued by sort of magical realism vibe going on in the blurb.
What Worked
I love a good setting and the place and time of Bicho Raro, Colorado, in the desert in 1962 are intrinsic to the story. Pirate radio stations are a thing of the past and the desert is as much of a character as any person. Both transported me to an arid, harsh, but beautiful land full of darkness and stars, owls and soundwaves.
There is a heightened type of narration in All the Crooked Saints and it took me about two-thirds of book to figure out what it reminded me of: Wes Anderson. In a Wes Anderson film, each character has a place and a default way of acting, sometimes in a slightly absurd manner. Crooked Saints has that with the myth-making of Peter S. Beagle and a dollop of telenovela drama. To be fair, this is something that could have gone poorly for me if I hadn't been in the right mood.
It's a lovely bit of fairy tale with characters working their way through the mysteries of tradition and superstition in a world where magic does exist.
What Didn't Work
There are a lot of characters. Not all of them get a lot of page time—which is fine—but many of them don't get too much of a different voice either. The world is peopled, but much of the Soria family sounded and felt the same to me.
Overall
I really enjoyed All the Crooked Saints. It was a well-needed injection of gentle fantasy into a fairly dull bunch of March books.
Publishing info, my copy: hardback, Scholastic Press, 2017
Acquired: 11/15/17
Genre: fantasy, YA