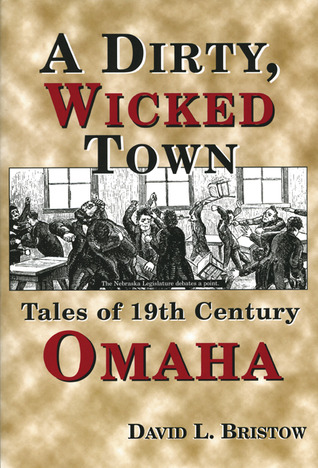 A Dirty, Wicked Town: Tales of 19th Century Omaha by David L. Bristow
Omaha, Nebraska, is a laid-back city in America's heartland. In the nineteenth century, however, it had a very different reputation. Omaha grew from a speculative scheme in 1854 to a booming city. Along the way there were scores of great stories.

"It requires but little if any, stretch of the imagination to regard Omaha as a cesspool of iniquity, for it is given up to lawlessness and is overrun with a horde of fugitives from justice and dangerous men of all kinds who carry things with a high hand and a loose rein. . . . If you want to find a rogue's rookery, go to Omaha."—Kansas City newspaper. (via Goodreads)
Why was I interested in this book?
Omaha! It's my hometown. Sadly, when I lived there I was much less interested in its history. History is wasted on the young.
What Worked
David Bristow does a really good job making this book light enough to be popular nonfiction, but also with some historical "crunch" to it. All the stories are well-cited as well as well-written.
There is also a good variation in tales. Omaha began its life with the reputation of being a "wide open" city. Crime of all sorts was rampant. (It could be argued that crime boss Tom Dennison, not covered in this book since he didn't come into power until post-1900, was at least an organizing influence.) But along with tales of gambling, prostitution, and sadly, a lynching, there are stories of newspaper editor dust-ups, hot air balloon hijinx, the other White City, and (of course) weather.
While the book doesn't go into a extreme detail, the many first-person accounts quoted give a good idea of what it was like to live in Omaha in the late 19th century.
Publishing info, my copy: trade paperback, Caxton Press, 2000
Acquired: Amazon, March 11, 2013
Genre: nonfiction, history