#RIPXIV & #SomethingWickedFall Wrap-Up
*emerges from under a pile of candy wrappers, pumpkin pie tins, and creepy stories*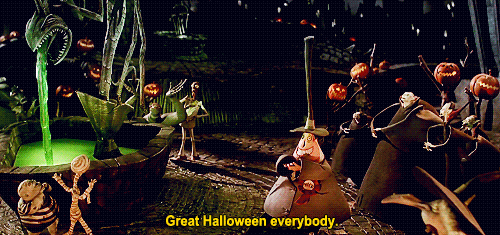 Hope everyone had a great spooky season! Since I can see Halloween decorations in the stores in August, I have little problem with queuing up the Christmas music now. Me, though, I'll stick with my Halloween-flavored playlist a little longer.
I did okay with my seasonal reading goal, though I'm behind a little on my yearly goal. For Peril the First, I read:
The Two Sams by Glen Hirshberg
The Other by Thomas Tryon
The Small Hand & Dolly by Susan Hill
Hungry Ghosts by Anthony Bourdain,  Joel Rose, et al.
Death by Suggestion by Donald K Hartman
Plus a bunch of short stories and horror movies. I'm terrible at wrap-ups, so on to the next things!
Nonfiction November TBR
In addition to trying to keep up with Nonfiction November posts, I'm going to try and read 2-3 nonfiction books this month.
The Beautiful Cigar Girl: Mary Rogers, Edgar Allan Poe, and the Invention of Murder by Daniel Stashower – I've started this book a few times, but every time some other book gets in the way. Not this time.
Edison's Eve: A Magical History of the Quest for Mechanical Life by Gaby Wood
Tesla: Inventor of the Modern by Richard Munson – Didn't realize I had pitted an Edison book against a Tesla book. Will my Tesla fandom win out over my love of reading about automata? Time will tell…
November Movie Watch-List

I enjoyed talking about movies last month. My plan going forward is to pick four or five movies to watch in a given month and blog about them a little. My list for November:
12 Years a Slave (2013), directed by Steve McQueen
42 (2013), directed by Brian Helgeland
Birdman (2014), directed by Alejandro González Iñárritu
Creed (2015), directed by Ryan Coogler
Hail, Caesar! (2016), directed by Joel Coen, Ethan Coen
Other Stuff
NaNoWriMo: Yes, I'm participating in National Novel Writing Month. Well, sort of. I'm not writing a novel, but I'm going to try and put together a 50K word manuscript of notes on a 1915 murder that happened in Omaha. Yeah, I don't exactly know what I'm doing. This is a writing/researching adventure.
Ultimate Frisbee: Ultimate has been rough lately. I've been playing two league games a week and some of those games have been savage (meaning no subs). My team hasn't won too many games, but I've enjoyed this group of players more than I thought I would. I have two league games this week and then none until finals on the 16th.