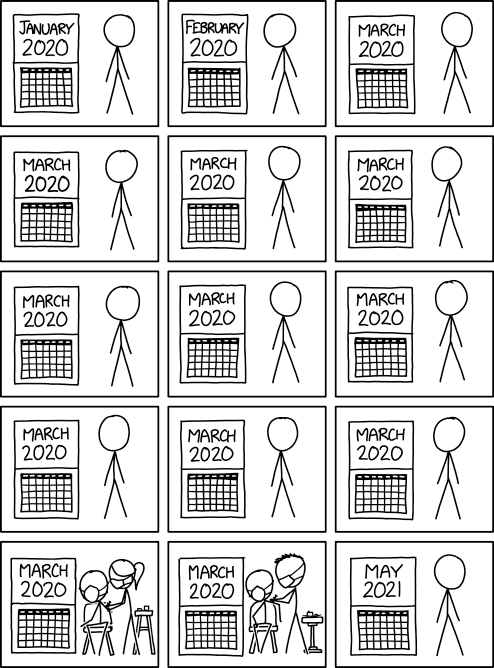 Getting Back to It
I haven't talked here much about the pandemic, because there wasn't much to talk about. Eric and I have worked from home together for years, so that wasn't a change. We also don't have kids; we didn't have to deal with homeschooling or what-not. Our families came through generally unscathed, although some disappointing decisions were made by a few members here and there.
But still… 2020 was a long, long year without library visits, restaurants, movie theaters, or ultimate frisbee. And it was a year with a lot of fear. I have some auto-immune problems and I was pretty sure that it wouldn't go well for me if I got COVID-19. Also, the main health risk in my family is heart disease. I rely on staying active and (relatively) in shape to stave that off. Long COVID was definitely something I wanted to avoid. (Post-COVID lungs look like gerbils have run amuck in them—I have enough problems without post-gerbil lungs!) We played it very, very safe and I have no regrets about that.
'Round about April (of this year), it started to feel like 2020 was finally over. Vaccination appointments had opened up in Arizona for anyone 16+ in March. I waited a couple weeks to get an appointment, figuring that there might be a crush of interest and I could wait a little longer, but as of today, Eric and I have both had our second shots. He's at his appointment as I write this. I had mine on Tuesday. I've had very few side effects, other than feeling so much lighter mentally.
Last week, we semi-resumed eating out (drive through from Raising Cane's—yes, we hadn't even risked drive-through or delivery). In two weeks, I'm restarting the Wednesday/Friday frisbee game I organize. I can go renew my library card (it just expired) even if my shelves would prefer I didn't. My parents are getting their first jabs this week. We had our first 100F day yesterday, so we'll probably spend a cool day or two in the high country with them in a month or so.
If you haven't gotten vaccinated yet and can, do. It's for your good and the good of your community. And if you need to get a second shot, do that too. This is the home stretch. This is December 31, 2020, 23:57:31. Get your vaccination and join me in 2021.