Finished Reading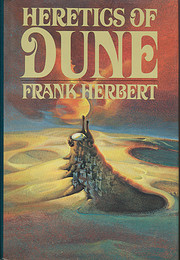 Heretics of Dune by Frank Herbert
After making it through God Emperor of Dune, I have to say, Heretics is where Herbert lost me. The plot is my least favorite kind: factions scheming against each other. That can work, but I need some characters that are compelling enough to me to be hooks. And I've lost interest in the setting/world building. I had enjoyed the interplay between "female" knowledge and "male" knowledge (and how those two things were embodied in the Kwisatz Haderach), but now it just comes down to using seduction and sex as power? Maybe that's the natural continuation of things post-Leto II, but that doesn't mean I like it.
Chapterhouse: Dune is more a direct continuation than the previous books and that doesn't bode well. In fact, I think I'm done with the series. I've given it go and maybe in the future I'll read the whole thing again, but for now, I'm just going to wait for the movie to come out and move on with other reading.
Currently Reading
---
Some people might take exception to my eschewing a classic of science fiction for a Warhammer 40K tie-in, but that's what's happening here. I plan on finishing The Flight of the Eisenstein before settling into The Mysteries of Udolpho and some shorter works during Bout of Books next week. I have a few short stories/novellas I purchased over the past year that I want to clean up before "fall" reading. Since I'm still doing 80s in August, my BoB updates will be on Twitter.