Finished Reading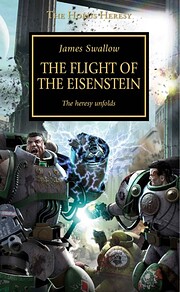 The Flight of the Eisenstein by James Swallow
This is the fourth book of the Horus Heresy, a long, still on-going series of novels detailing the events that lead to the Warhammer 40K gaming setting. Despite that possibly ignominious designation, the books I've read in the Horus Heresy are pretty good. They are military science fiction, a sub-genre I don't read much of, but I like the occasionally conflicted characters and the Gothic-punk aesthetic. (When I say Gothic here, I mean Visigoth, not Hot Topic goth.) I have in the past commented that often in women's fiction there is a lot of attention paid to clothes and hair and makeup. Those books have nothing on the descriptions of armor, heraldry, and weaponry in these books. And I kind of dig it!
Searching through my old posts, I find that I read the previous installment back in…2010. I knew it had been a while, but I didn't realize it had been that long. On the plus side, I was worried about the shift in characters after the initial trilogy of books. Since I didn't remember much about them, Book #4 was painless to get into.
Deal Me In
Started a Twitter thread for short fiction including Deal Me In stories:
Currently Reading
I intended to start reading The Mysteries of Udolpho by Ann Ward Radcliffe this week during Bout of Books, but I wasn't in the mood. Luckily, a pending ARC request bailed me out. I'm reading Never Say You Can't Survive: How to Get Through Hard Times by Making Up Stories by Charlie Jane Anders. Considering I'm trying to get back into writing and dealing with a bit of anxiety, it seemed like a book I might be interested in.
Also reading quite a few short stories.