A couple reviews of books I finished a last weekend during Readathon: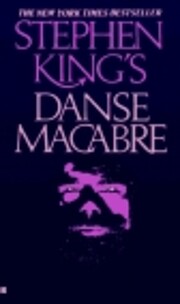 Danse Macabre by Stephen King
Back in the late 70s, after Stephen King had become the go-to horror guy, he was approached to write a book about the phenomena of horror: why some people like it, why some writers write it, and why horror works. King decided, judiciously, to focus the field and write about horror between 1950 and 1980, both written and on film.
I first read this book back in college. At the time, I hadn't read or watched much horror at all. Much of what King discusses was not really in my realm of knowledge (though weirdly, reading about horror media has always been almost as fun for me as consuming it). This book was, in fact what turned me on to Shirley Jackson's The Haunting of Hill House and Anne Rivers Siddon's The House Next Door, both of which I happily found in UNL's library. It was definitely interesting to revisit Danse Macabre now that I've read and watched more of the titles mentioned.
The Sundial by Shirley Jackson
Speaking of Shirley Jackson . . . A second reread for me this month. This isn't decreasing my "# of owned and unread books".
I have in the past confused this book with We Have Always Lived in the Castle. Not hard to do, I feel. Both involve a very insular group of people living in big old house. The difference: Merricat (from Castle) knows the world isn't ending because she's not lucky enough for all the people she hates to be so quickly wiped out.
This book is wild. As I mentioned the first time I read it (in 2006), I'm pretty sure there's a satirical element, but, other than pointing out the lunacy that can come from classism, I'm not sure I'm neurotypical enough to puzzle it all out. It is a very funny book with moments of WTF and a dollop of terror when Julia tries to break for town.