I'm not going to participate officially in Nonfiction November because I don't think I have time to put together posts each week, but I do want to give a shout-out to the event. Reading nonfiction often gets overlooked as being dry or not being as important as "literature." False dichotomy! Nonfiction is a wide genre, knowing how the world works is always a good ting, and some nonfiction is just as narratively driven as the best fiction. So, anyway, if you like nonfiction and want to celebrate it or you're new to nonfiction and want some recommendations, check out the event all through November. It kicked off Monday with Rennie at What's Nonfiction:
Take a look back at your year of nonfiction and reflect on the following questions – What was your favorite nonfiction read of the year? Do you have a particular topic you've been attracted to more this year? What nonfiction book have you recommended the most?
I generally try to read about a 30% nonfiction during the year. Right now I'm hanging out at 37% with my two in-progess books also being nonfiction. Here's a breakdown of what I've read and what's going on in 2021.
Books about writing:
Or at least tangentially about writing. It seems I'm trying to come back from what I've recently described as my mid-life hiatus.
Creativity: A Short and Cheerful Guide by John Cleese – recommended! It's short and rather comforting book about, well, creativity.
Wild Mind by Natalie Goldberg (re-read)
The Call of Stories by Robert Coles (re-read)
Zen in the Art of Writing by Ray Bradbury (re-read)
Never Say You Can't Survive by Charlie Jane Anders
The Letters of Shirley Jackson, edited by Laurence Jackson Hyman (in-progress, but so far, recommended)
Magic books:
Not as many magic books as in years past, probably because I've maybe been paying too much attention to what I'm "supposed" to be reading.
Strange Cures by Rob Zabrecky – recommended! The least magical of the bunch, this is Rob Zabrecky's autobiography of living in drug-soaked California as a member of Possum Dixon and later as a magician.
The Coney Island Fakir by Gary R. Brown
Jay's Journal of Anomales by Ricky Jay
David Copperfield's History of Magic by David Copperfield, Richard Wiseman, and David Britland (in-progress)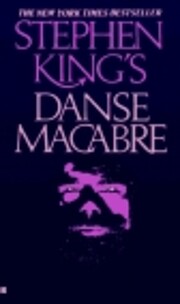 Horror in media:
Why? Don't know, but I have watched a lot of horror movies since April of 2020. A lot.
The Science of Women in Horror by Meg Hafdahl and Kelly Florence
Nightmare Movies by Kim Newman
Danse Macabre by Stephen King – recommended! Even if you're not a fan of Stephen King or even horror, this is a pretty good primer on horror tropes and what they say about American society (at least from 1950 to 1980).
Science history related:
One of my favorite sub-genres of science nonfiction is the history of science. Or maybe one of my favorite sub-genres of history is where it intersects with science. (See also, magic books.)
The Haunting of Alma Fielding by Kate Summerscale – recommended! Also "magic books" related, but much more about the psychology that is behind the want/need to perpetuate a certain type of con, in this case mediumship.
The Reason for the Darkness of the Night by John Tresch – recommended! A great Poe biography, but also about the advancement of science in the US during Poe's lifetime; how each influenced the other.
Tesla: Inventor of the Modern by Richard Munson
So, that's a microcosm of my reading this year. I'm sure my TBR will be freshly filled up with great nonfiction titles by the end of the month!