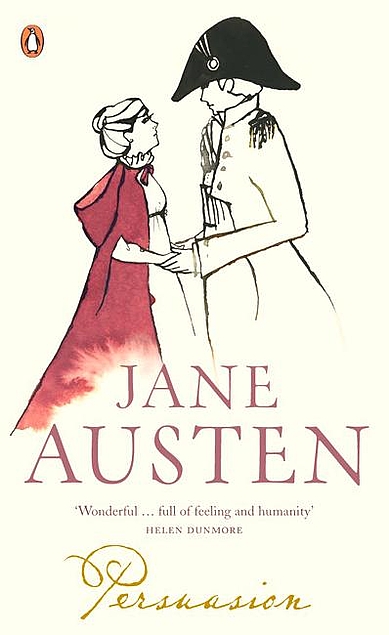 Persuasion by Jane Austen
Recently, there was a bit of a kerfuffle in my corner of the internet over the trailer of a new adaptation of Jane Austen's Persuasion. After reading some of the passionate discourse and having liked Pride and Prejudice more than I expected, I decided to add Persuasion to my summer reading list.
Unlike Pride and Prejudice, I was relatively unfamiliar with the story of Persuasion and perhaps my reading suffered for that. The cast of relations and relatives was somewhat dizzying to me. I lost a few threads, I feel, after about to75% mark. I probably would have fared better if my brain could put more concrete attributes to names (which having watched a film adaptation of P&P before I read it allowed me to do).
I can definitely see where things in the recent movie trailer are striking wrong notes for Austen fans. Anne seems to be the constant, solid one in her family, probably not prone to jelly mustaches. "Now we're worse than exes, we're friends" also seems to be a big bone of contention and, yeah, I don't know where that sentiment is in the novel. Director Carrie Cracknell implies that the trailer paints a potentially inaccurate view of how the movie actually is. I guess the world at large, or at least people with Netflix subscriptions, will find out in a couple of weeks.
Personally, I found it to be a fine story, but Austen doesn't have quite enough setting details for me to truly love her work. I do think that filmmakers can bring a lot to her stories, whether in faithful adaptations like the 1995 (or 2005) Pride and Prejudice or very modern updates like 2022's Fire Island.
Tangentially, Persuasion was published posthumously in 1817. I never fully realized that Mary Shelley and Jane Austen were publication contemporaries.