Read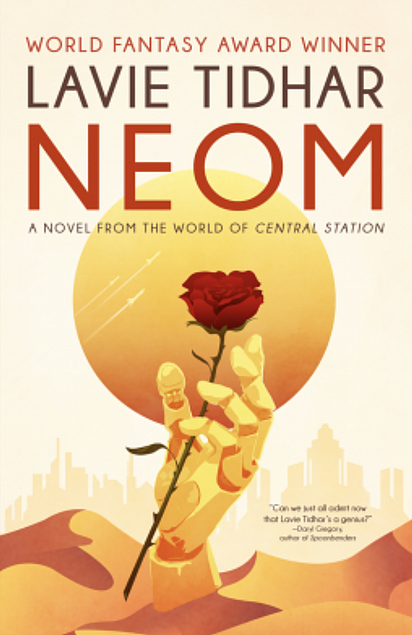 Neom by Lavie Tidhar
(A copy of Neom was provided to me by Tachyon Publications in exchange for an honest review.)
Compelling world building is a scale with details on one side and ambiguities on the other. A real world needs details: politics, religions, economies, arts, even sciences. The trick is knowing when to not explain these things. Lavie Tidhar's Central Station is one of my favorite settings because, as a reader, I'm simply dropped into the world and maybe a reference is explained, maybe it isn't.
The city of Neom is near Central Station. The story is (mostly) Earthbound, but it's still a mash-up of space opera and fable, where an old robot takes a rose into the desert and digs up a buried automaton messiah. Neom is situated between Mecca and Bethlehem, so I'm sure there are allegories to be had here, but biblical comparisons feel too mundane and not mythical enough.
The characters in Neom are somewhat coincidental to the plot, but that plays into the feeling of predestination. Of course Miriam, with her half a dozen part-time jobs, is always where the story is taking place and of course Nasir and Saleh have items that are needed. The robot characters are more interesting and I'm glad a few of them might live on in other stories.
Short Stories
Deal Me In, Week 46: 10❤️ "Clearly Lettered in a Mostly Steady Hand" by Fran Wilde
Hearts are for Eugie Award winners and Nominees. "Clearly Lettered . . ." won in 2018. A sly story that reminds me of Tod Browning's Freaks (1932), at least a little.
Yuletide Spirit
I'll admit that this year I've been keener than usual to jump into the "holiday" season right after Halloween. (Though feeling that and hearing "All I Want for Christmas" at the mall last week are two different things . . .) When I saw Michelle's announcement about the Yuletide Spirit Challenge and Readathon, starting on Nov. 21st, I thought, "Perfect! An excuse to have a November start time for celebrating!"
I'm going to shoot for the Mistletoe level (2–4 Christmas books) with a side of Fa La La La Films. And I'm going start my decorating process!
Watched
Nope (2022)
I'm kind of amazed that I managed to go into Nope without knowing very much about the movie. This probably says more about my lack of interaction with media than the popularity of the film.
I liked Nope better than Us (2019) and maybe more than Get Out (2017) too.
As a kid, I found Close Encounters of the Third Kind (1977) a bit scary. On second watch, I noticed a few things in Nope that strike me as a bit Spielbergian.
I miss Fry's Electronics.
I've also missed Michael Wincott.