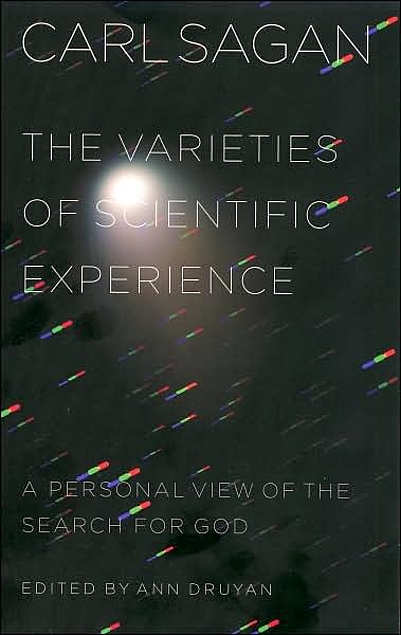 Read
Finished two books this week. Shocking, I know!
The Varieties of Scientific Experience: A Personal View of the Search for God by Carl Sagan
In 1985, Carl Sagan participated in the Gifford Lectures, a series at the University of Glasgow on natural theology. The Varieties of Scientific Experience is the transcript of those lectures. Most are, of course, on what physics and astrophysics can tell us about the possible existence of God. Sagan's view is that it depends on how we define God. If you consider how marvelous it is that there is a set of physical laws that go beyond just our puny little world, shouldn't that be grand enough to be considered god? Sagan notes that without a meddling god, humans are left to take responsibility for their own actions and have moral obligation toward preserving this world and not blowing ourselves up with nuclear weapons (as was the overwhelming worry in 1985).
Mockingbird by Walter Tevis
I bought this book at Page One Books in Lincoln. Since it's never mentioned in my back-from-Nebraska hauls, I've probably owned this book since college. So, yeah, it's been on my shelves for 25-ish years.
It's entertaining, the things that a science fiction author believes will continue into the future. For example in Mockingbird, Sears department store. Granted at time of writing, Sears has existed in one form or another for well over a century. Unfortunately, it will only be a memory by the 22nd century.
Mockingbird is about a robot apocalypse, sort of. Somewhere along the way, humans gave over the operation of everything to robots and retreated into drugs, ignorance, and "privacy." Reading isn't just illegal; it's become a lost art. And when the remaining Mark 9 robot wishes to end his service to humanity, by ending humanity, most humans don't even notice what's going on. But there are lessons in this book for us:
"Why shouldn't I teach Mary Lou to read?"

. . . "Reading is too intimate," Spofforth said. "It will put you too close to the feelings and ideas of others. It will disturb and confuse you."

. . . "Why should it be a crime to be disturbed and confused? And to know what others have thought and felt?"
Seems pretty a propos of now.
Short Stories
Currently Reading
The Essential Peter S. Beagle, Volume 1
Web of the City by Harlan Ellison
Challenge Updates
Read 20 books that I owned before 1/1/23: 3/20 ✅ +1
Get my Library Thing "to-read" down to 500: 519 ❌ +0
Read 18 books from my Classics Club list: 1/18 ❌ +0
Shelf Maintenance: ✅ It's been twelve days since I last acquired a book.